George Hills Promotes Chris Shaffer to Chief Operating Officer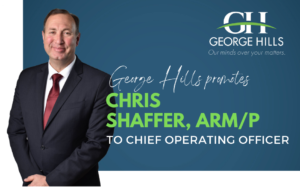 George Hills Promotes Chris Shaffer to Chief Operating Officer
George Hills is pleased to announce the promotion of Chris Shaffer to Chief Operating Officer (COO), effective February 1, 2022. 
Mr. Shaffer eagerly hit the ground running when he started at George Hills in November 2018. Under his leadership, several continuous improvements have transpired. "Chris is a strong supporter of the firm's values, is a great communicator with his team, the entire claims division, and all personnel company-wide—as well as our clients. With Chris, our best practices have been honed, he has enhanced George Hills through his background and experience with an international TPA and his wealth of IT knowledge, public entity industry, and his influence in bringing talented personnel to become George Hillians," stated John Chaquica, CEO. In the role of COO, Mr. Shaffer will assume a broader leadership role in the operation of George Hills, growing the company and further developing George Hills as the leading California TPA.
Mr. Shaffer has been in the industry for over 28 years. Prior to George Hills, he was the Managing Vice President of Client Services for York (now Sedgwick). His career started in Information Technology, which led him to Greg Bragg and Associates, a California TPA for public entities. Greg Bragg was a former George Hills employee, and his firm was very much like the boutique company George Hills is and Mr. Shaffer remains excited to be a part of.  From there, he grew into TPA operations, systems, and risk management. After York acquired Bragg circa 2008, he advanced to the executive management of client services, managing a $125M unit focusing on public sector clients (for Workers Compensation, General Liability, and Property), many of whom are George Hills clients on the general liability side.
George Hills congratulates Mr. Shaffer on his promotion to the COO of George Hills!